Our Pack
EblanaHalls Aye Right
(International Multi Ch Hobel Joe O'Brien x Thistlebe Them There Eyes at EblanaHalls Sh.CM)
Shoogle
DOB: 26.12.2015
dog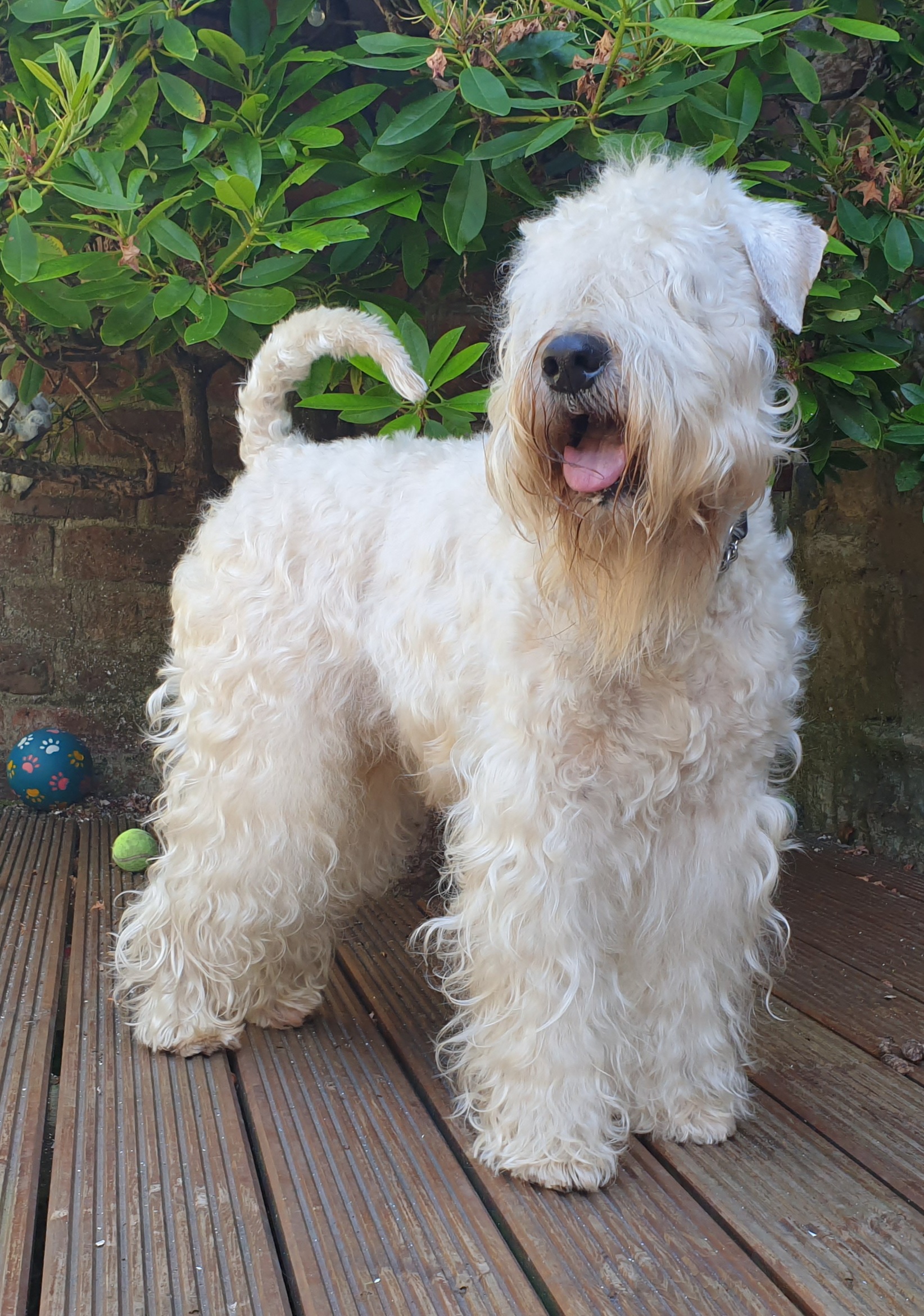 Photo JUNE 2021
(Pedigree)
EblanaHalls Gold Limerence
(Frontline Mr Feelgood  x EblanaHalls Honeytrap JW)
Taisie
DOB: 17.02.2012
Bitch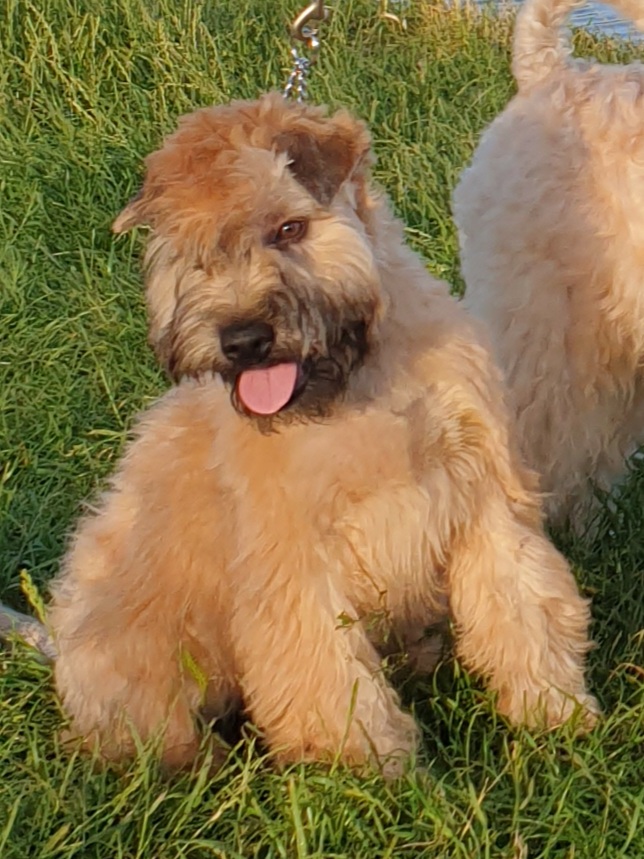 Photo July 2021
EblanaHalls Honeytrap JW
(Wheaten Rebel's Voice of Vision for Silverluka x Thistlebe Them There Eyes at EblanaHalls ShCM ShCEx)
Sioda
DOB: 17.10.2017
Bitch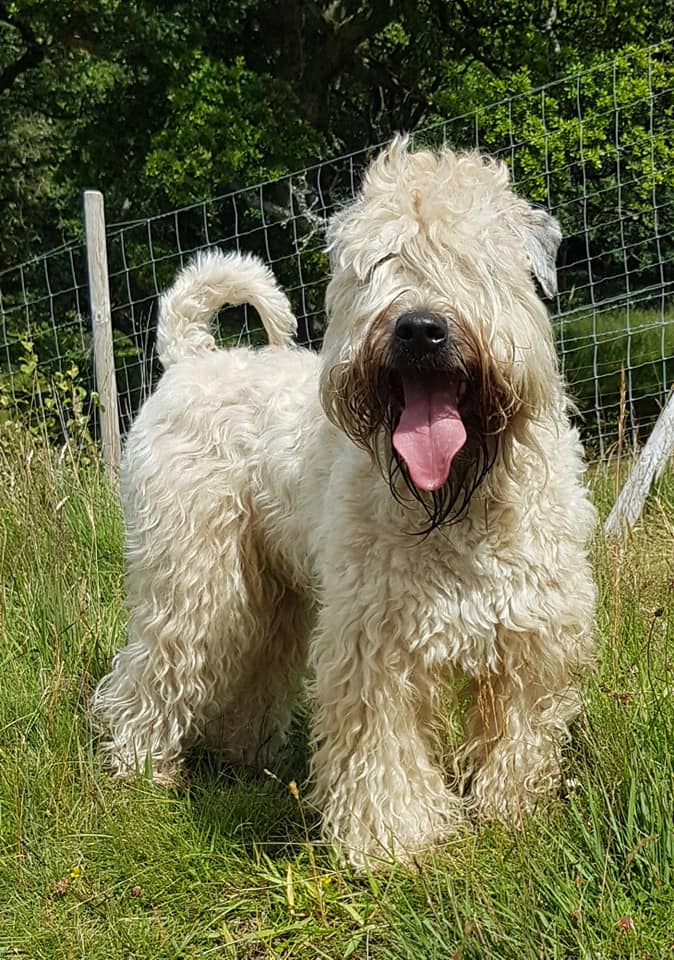 Thistlebe Them There Eyes at EblanaHalls Sh.CM ShCEx
(Keridown O'Monecht x Keridown Thistle Be Good)
Pooka
DOB: 20.04.2013
Bitch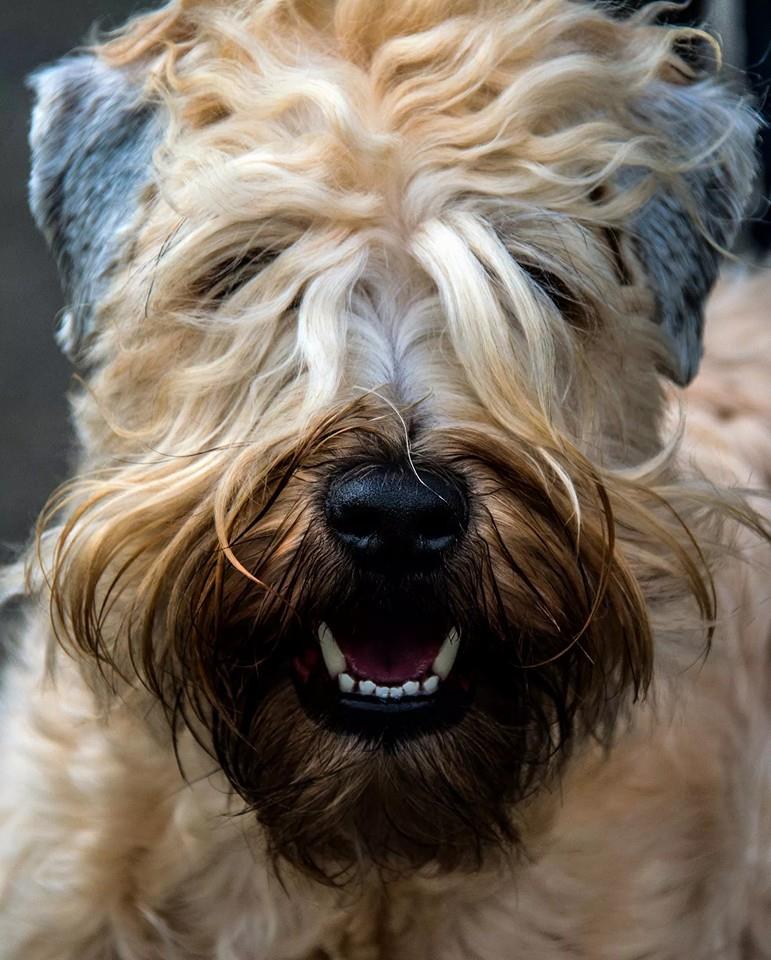 BVA Hip Score : 5/4 = 9 – 24th June 2015
PLN : N/N =  Clear
RBP4: N/N= Clear
DM: N/Y= Carrier
CLPS (cleft lip and palate): N/N= Clear
BVA Eye test: Clear –  2016, 2017, 2018, 2019, 2020
Blood and Urine tests: Normal
She is equally at home in the show ring and has qualified for Crufts every year she has been shown and has been awarded 1st place in Limit Bitch there and a 3rd in a huge open class being beaten only by the previous years BOB and the current years BOB.
Pooka has been awarded her Show Certificate of Merit (Sh CM)! The Show Certificate of Merit is an award which a dog can achieve through winning certain awards at General and Group Open shows.
Pooka was the first soft coated wheaten terrier in the UK to achieve the award Show Certificate of Excellence (ShCEx) in 2018.
Pooka was awarded Reserve Best in Show (RBIS) at the Scottish Kennel Club Scottish Show Dog of the Year 2016. She also won two other Reserve Best in Shows in 2016.
She is fully health tested with a BVA hipscore of 5/4, BVA eye test (2015, 2016, 2017, 2018, 2019, 2020): clear, DNA PLN: N/N so not a carrier of this gene, DNA DM: Y/N, DNA CLPS (cleft lip and palate): N/N clear, DNA RBP4: N/N, clear. blood work:Normal and Urine analysis:Normal.
All health certificates and results can be viewed when visiting.
Pooka has had one litter in 2015 of 4 of the bounciest pups. Her son Shoogle, EblanaHalls Aye Right has stayed with us.
Hobel Turn Around (IKC) at EblanaHalls 
(Hobel Daddy's Home  x Hobel Here Comes Summer)
CuSidhe
DOB: 7.04.2014
Bitch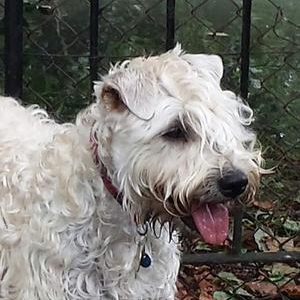 (pedigree)